Property Inspection Service, Inc.
Home Protection Plan    
​At Property Inspection Service, Inc. we aspire to generate comprehensive home inspection reports, with the highest standard of care in the Hilton Head area and featuring the latest electronic reporting system.
We pledge to provide a profession inspection within the confines of state licensing requirements and pre-inspection agreement(s). We can enable an informed decision; facilitating most any inspection concern.
Being in the Low Country home inspection business twenty two years, we know, for the short term a home warranty can provide a lot of value. To help with piece of mind we offer, as included with a full home inspection, warranty service through a partnership with Residential Warranty Services.
90-Day Warranty – covers specific mechanical and structural items that occur after your full home inspection. The warranty is valid 90 days from the inspection or 22 days from closing, whichever comes later.
To make a claim the home buyer would get a repair estimate from a licensed contractor that has the cause of failure stated as well as parts and labor broken down and submit the claim online at www.SubmitYourClaim.net
(click Logo below – review warranty)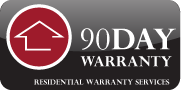 90 Day Warranty Videos
(click Video below)
To review the warranty in full, please visit: http://www.inspectionsuccess.net/warranty